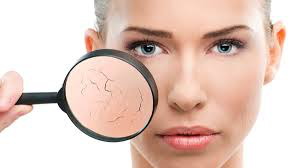 Dry skin is due to lack of moisture
Prolonged dry skin can lead to wrinkles at an early age. To avoid the inevitable, we can lubricate our glands and bring moisture back into the skin we love most. Harsh soaps, itchy clothing and excessive heat can contribute to dry skin. A little TLC never hurt anyone – in fact that's the lovin' your skin needs to stay hydrated this season.
For one, HYDRATE. Sounds simple, but this concept can slip through the cracks as we go about our day. Start small. If you want to increase hydration, make small goals for yourself. Day one could be something as simple as drinking a half a cup of water every hour. During the second week, set a goal to drink 15 ounces of water per week. Keep a log of water consumption.
Tone down on the hot water usage! Using hot water while bathing can cause the skin to break. When the skin breaks, it becomes more susceptible to dryness. Instead, practice showering in lukewarm water. Before your shower, wash your wash with a lukewarm washcloth to remove makeup and dead skin.
Avoid alcohol-based cleansers. Many over the counter face washes and tonics contain alcohol. Use simple cleansers with oil bases. These bases include rosehip oil, avocado oil or jojoba oil.
For the adventurous type, experiment with face masks..Mix egg yolk, rose water, lime juice, olive oil and orange juice in a bowl. Once its thoroughly mixed, apply a smooth layer to the skin. This is perfect for a mid-morning mask or right before a morning shower. Keep on for about 20-30 minutes before washing off.
There's that darn egg again! Try a simple blend of egg yolk and honey in a bowl. Mix thoroughly and add an oil of your choice. Apply and let sit for 15 minutes before rinsing. Remember not to scrub as that could cause breakage.
Here's a solution for the ones who aren't afraid of a little turmeric.
Here's what you'll need:
4 tbsp of barley or garbanzo bean flour
1 tsp of turmeric
2 tsp of mustard oil
½ cup of water
To make:
Mix the ingredients together to make a paste.
Apply the paste to the dry areas.
Leave it on for about 5 minutes.
Wash it off with a warm washcloth (don't scrub!)
Calendula (that's a new one) is rich in natural flavanoids and oils. This technique is unique in that it uses the pedals themselves. Collect the pedals and make a paste. Do this by crushing the petals in a bowl and mixing with a flour of your choice. Let the pedals and flour harden. When you're ready to use, lightly mix the paste with warm water and apply to your face. Rinse after 10-15 minutes. Say hello to glowing skin!
Lastly, try grapeseed oil. It's one of the lesser known oils out there, but well known for its properties to help tighten a tone skin while providing the skin with a layer of moisture.
https://edenssemilla.com/wp-content/uploads/2017/02/Dry-Skin-Remedies.png
168
300
edenmaster
https://edenssemilla.com/wp-content/uploads/2016/10/edens-logo.png
edenmaster
2017-02-27 12:15:46
2017-02-27 12:15:46
Novel Ways To Combat Dry Skin And Increase Hydration